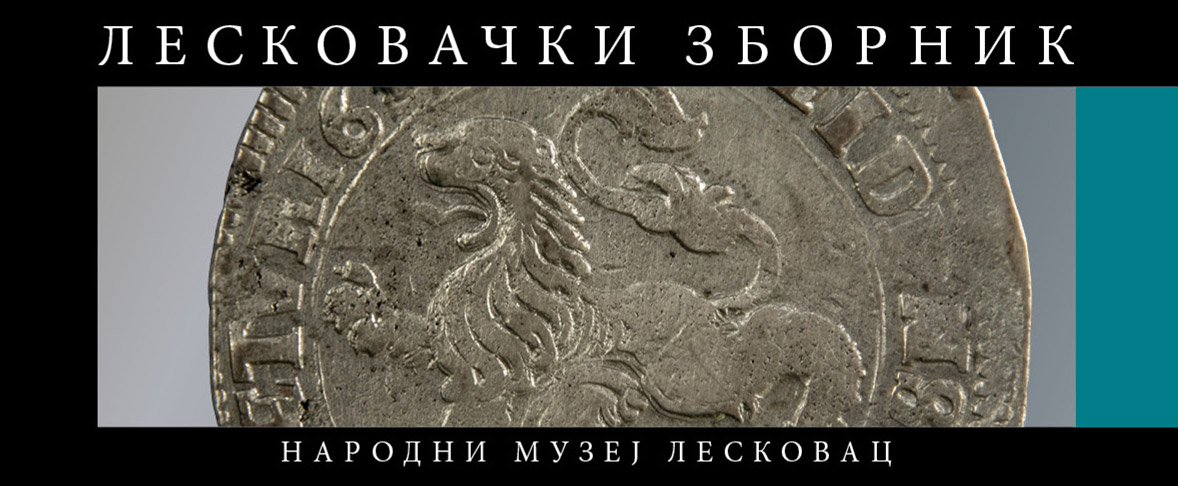 Leskovački zbornik – The Leskovac anthology is a publication with an exceptional reputation in the scientific world, which significantly contributes to the study of the cultural heritage of Leskovac and its surroundings, but also to the entire south of Serbia. It comes out once a year.
Since it is multidisciplinary, the yearbook Leskovački zbornik publishes scientific reports from various fields of social and natural sciences, striving to always be scientific, informative, analytical and current, thus expanding its influence and knowledge about the scientific moment in southern Serbia and beyond the local environment. On its pages you can read texts from archeology, history, numismatics, ethnology, art history, history of architecture, museology, linguistics, history of literature, sociology, and earlier botany, veterinary medicine, economics, and many other areas of social life in southern Serbia.
Launched in 1961, the Leskovac anthology was among the first yearbooks initiated by a museum in Serbia outside Belgrade and has managed to maintain its continuity in publishing for sixty years, becoming an institution as important as the museum that started it, since copies of it can be found in many large world libraries. The network of associates of the Leskovac anthology, in addition to local researchers, consists of scientific associates of institutes and institutions of the Republic of Serbia, but also of the former Yugoslav republics whose researchers studied the cultural heritage and problems of Leskovac and southern Serbia. As permanent collaborators of the Leskovac anthology, we should mention, first of all, the Serbian Academy of Sciences and Arts and its institutes, the Archaeological, Byzantine and Ethnographic, the Institute of Contemporary History in Belgrade, the Faculty of Philosophy in Belgrade and its
departments of art history, ethnology and archeology, the Institute of Serbian Culture in Pristina (Leposavic), the Department of History of the Faculty of Philosophy in Nis and many other institutions, as well as independent scientific researchers. All of them significantly contribute first of all to the competence and scientific nature of the articles that are printed on the pages of the Leskovac anthology, as well as to its survival in such a long period of time.
It has reached the level of an exemplary scientific publication, as assessed by the scientific institutions with which the exchange takes place, because as a yearbook, it has been published continuously for 59 years.